FACES - Fast Airport Clearance Experience System
No matter how much we long to travel again, no one wants to spend more time at the airport. Now with AirAsia's new facial recognition system, FACES, you can rest assured that that will never be the case again.

With FACES, contactless convenience is guaranteed. A one-time enrollment and verification will ensure a speedy, safe and seamless travel experience; just breeze through your check-in, self-baggage drop and boarding by authenticating your identity with your face.

Enrol here to experience the new way of travelling.

How to access FACES on the airasia app
1
Open your airasia app.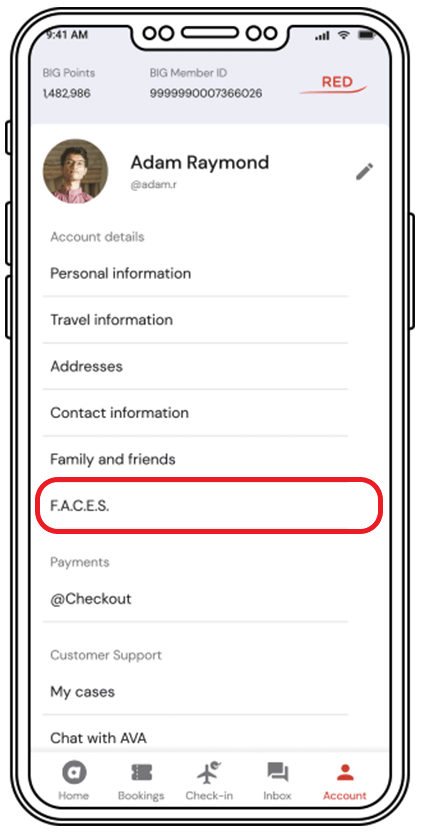 2
Go to "FACES" under Account or tap the FACES banner.
3
Tap "Get Started".
How to enrol with your Passport or National ID
1
Tap "I'm Ready".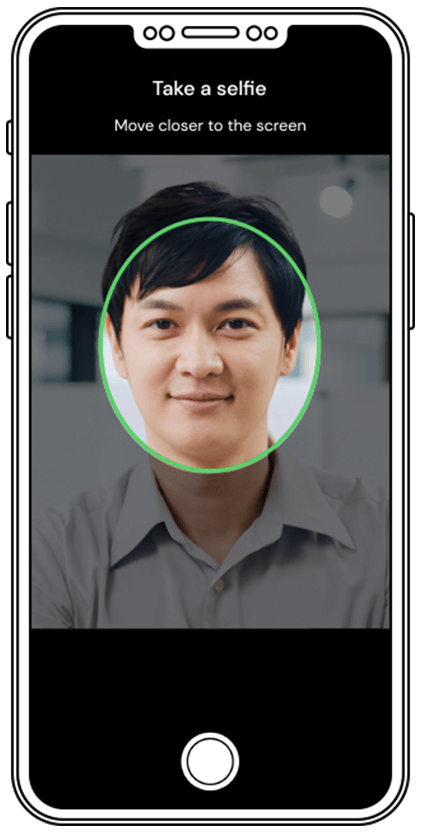 2
Take a selfie.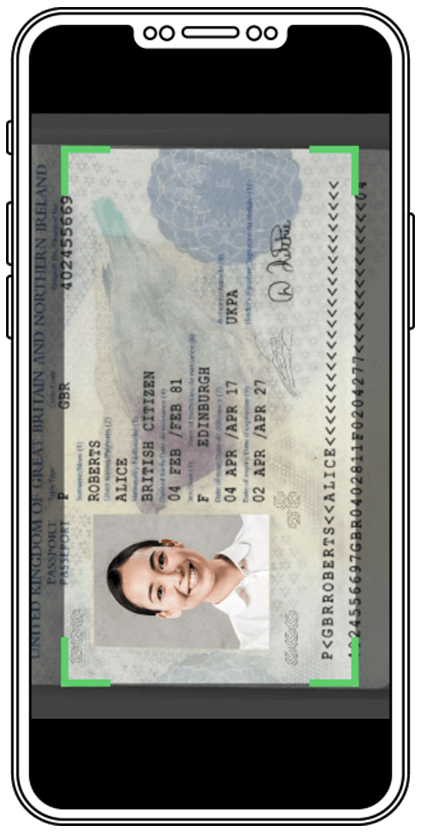 3
Scan your Passport or National ID and allow authentication to complete.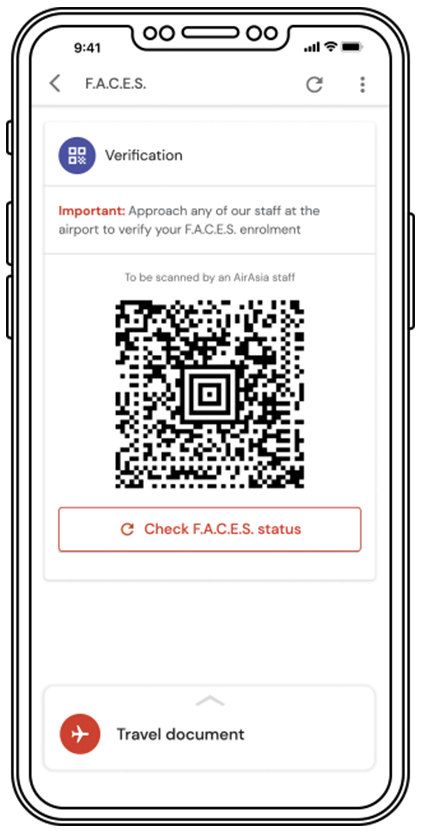 4
Generate your personalised QR code.
How to get verified at the airport
1
Present your personalised QR code along with your original Passport or National ID to the airport staff at the Service Desk.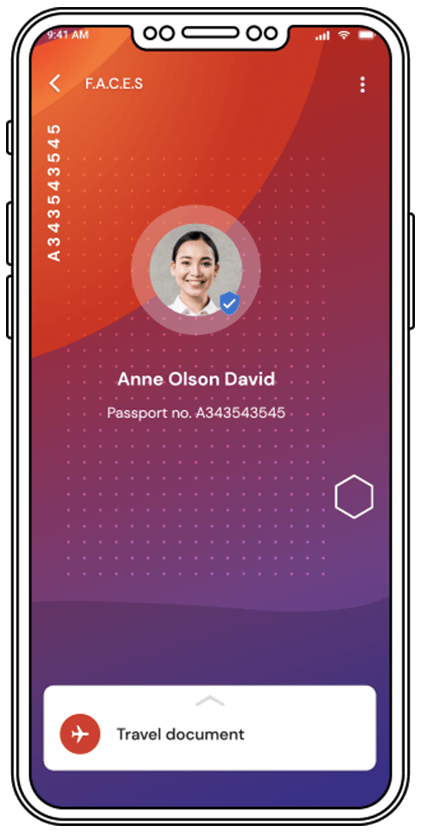 2
Get verified.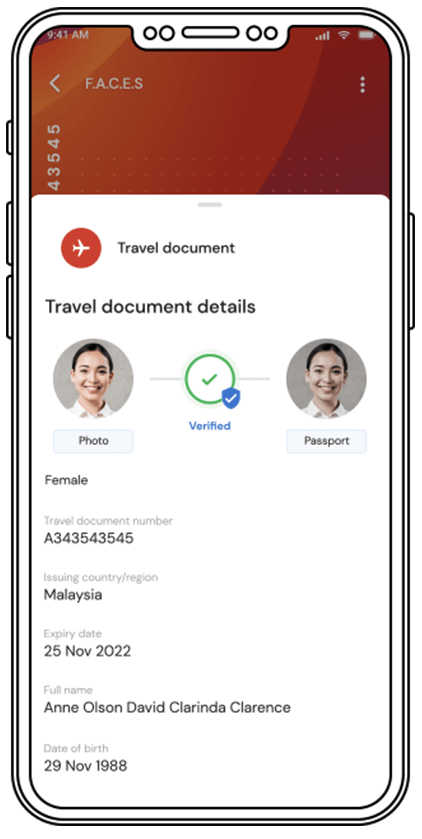 3
You're set to travel with FACES.
Note: Each guest only needs a one-time verification for FACES.
FAQ

1. What is the Fast Airport Clearance Experience System (FACES)?

FACES is a facial recognition system owned and operated by AirAsia. The main purpose of FACES is to create an efficient, contactless and seamless travel experience for our guests as they pass through various touch points like check in, self-baggage drop and boarding in the airport.

2. What is facial recognition?

Facial recognition is a form of biometric identification. AirAsia is using facial recognition technology as part of a digital identity system that uses cameras to identify individuals, reducing the need for guests to show or scan their travel documents.

3. Why is AirAsia introducing FACES?

As part of AirAsia's commitment to becoming a digital airline with maximum contactless processing, we aim to transform guests' airport experience and improve the boarding process while reducing the time it takes to board an aircraft. This step forward to digitise our operations is a first in Malaysia and we hope to work with other airports to use FACES to revolutionise the way people travel.

4. What are the key benefits of FACES?

With FACES, we aim to speed up airport processes by providing contactless touchpoints at check-in, self-baggage drop and boarding.

5. Where can I use FACES?

Currently, you can use FACES at Kuala Lumpur International Airport 2. We are in the process of rolling it out at other airports.

6. How does FACES work?

To enrol:

Guests will need their Passport or National ID to activate enrollment on the airasia app.
Guests who have completed their enrolment process will need to get verified at the Service Desk.
Once verified, guests can use the same FACES profile for future travels.

To board:

With this facial recognition system, guests can breeze through checkpoints by using their face to authenticate their identity.

7. Does FACES include immigration and border processing?

FACES does not include immigration and border processing. The facial recognition system is currently used for boarding purposes only.

8. How long is the enrolment process and do I need to arrive at the airport earlier to enrol?

The process takes no longer than a few minutes from start to finish and can be done anytime, anywhere.

9. What if the enrollment process is unsuccessful?

Guests who are unable to enrol should perform a web check-in and undergo the normal processing at the airport.

10. Can FACES recognise twins that travel together?

Yes, twins can enrol and access the system.

11. Are pregnant women allowed to use FACES?

Yes, please refer to Article 7.45 in our Terms and Conditions of Carriage.

12. Can I update my travel document post verification?

Yes, you can update your travel document. However, once you upload a new document, you'll be required to get verified at the Service Desk at the airport.

13. If I have enrolled but still face an issue with the system later on, what do I do?

We apologise for the inconveniences caused. Please contact our airport staff for any assistance.

Terms & Conditions

Visit our Terms & Conditions here.

Privacy policy

Visit our Privacy policy here.