Jom Cuti-Cuti Malaysia
Tired of seeing the same ol' four walls in your home? Head outside and explore the great backyard that is our country.
As part of Malaysia's Tourism Recovery Plan 2022 (PRE 2.0), we are giving some lucky locals the chance to see more of Malaysia, while paying less. Update your NRIC, claim the RM50 voucher, and let's get this adventure started.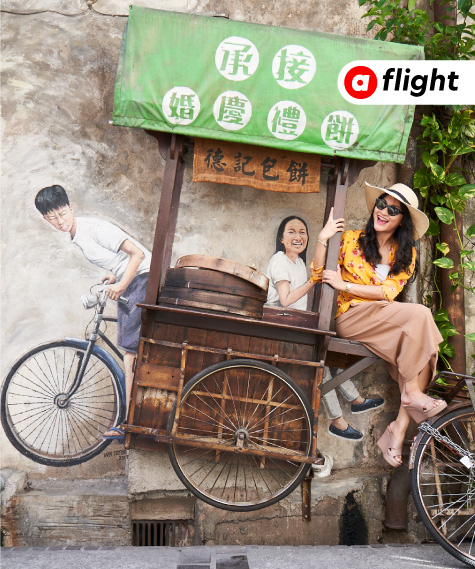 How to update your NRIC
<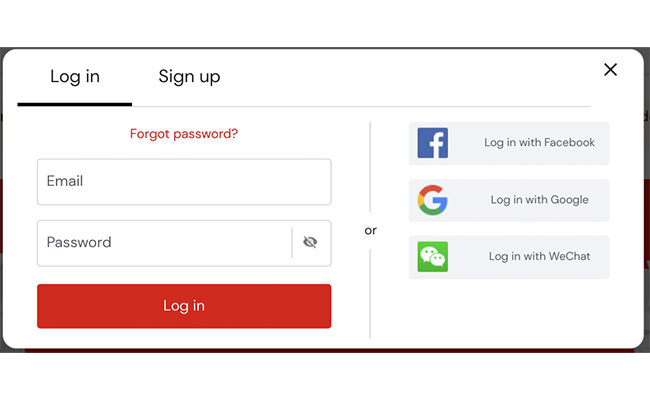 1
Log in to your airasia member account on the website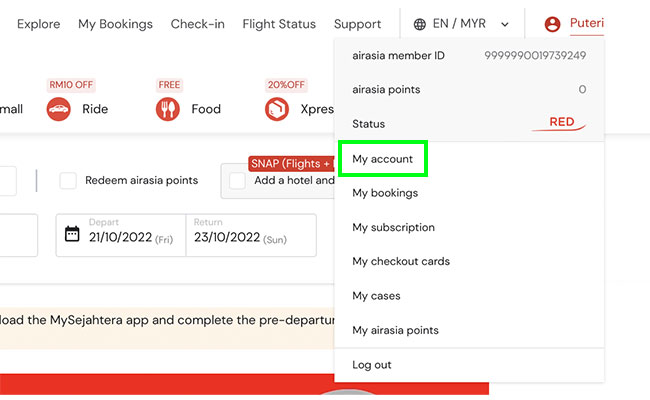 2
Go to "My Account" & select "Travel Information"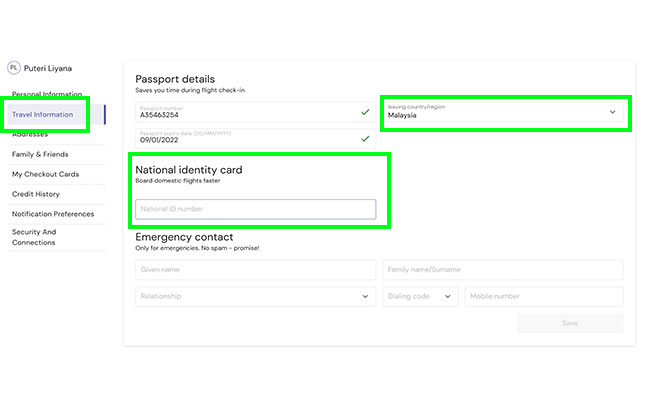 3
Choose Malaysia as your "Issuing Country" & update your NRIC number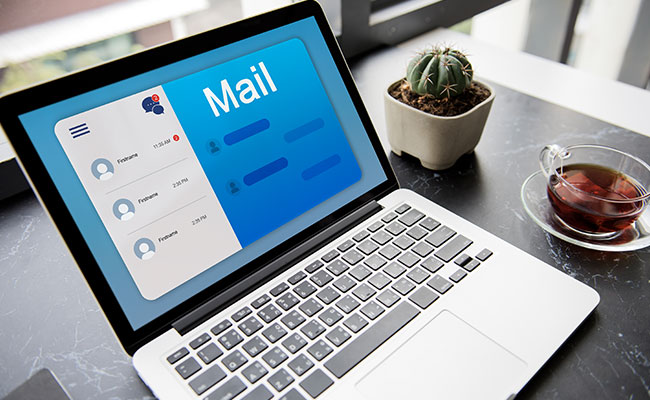 4
You will receive the stimulus code via email
How to use the RM50 e-voucher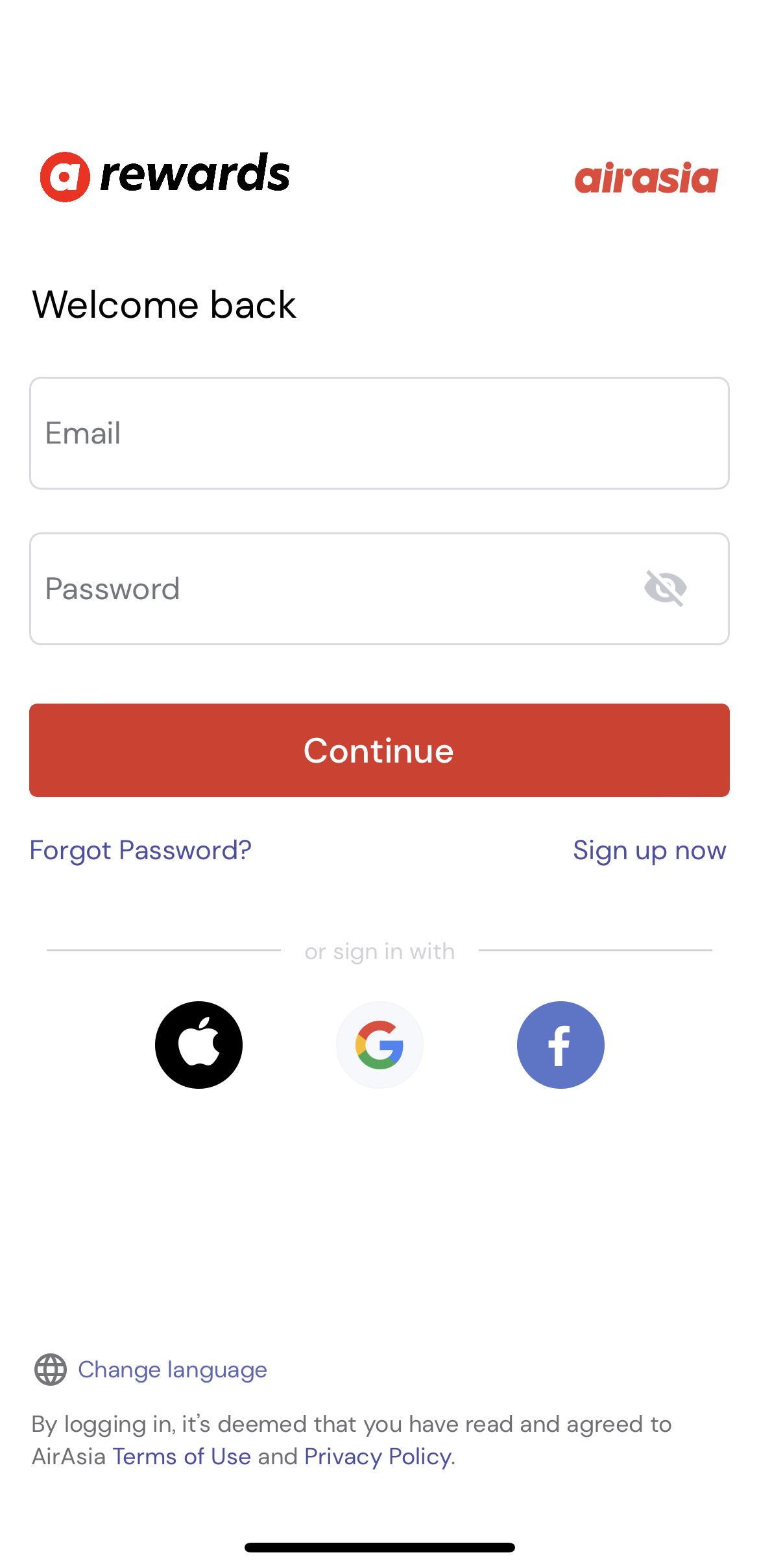 1
Login to your airasia member account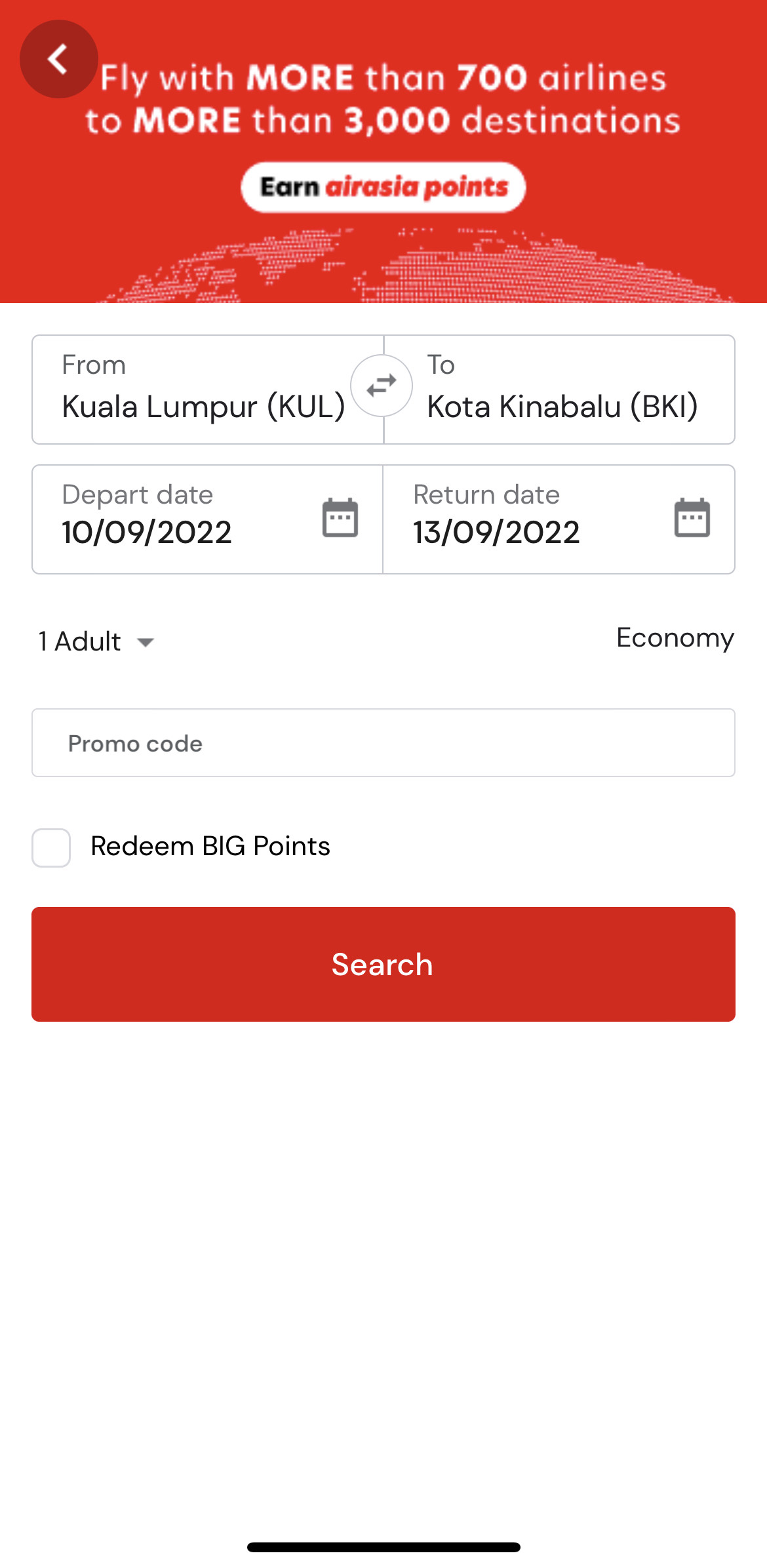 2
Choose your flight at the booking page
3
Select your departure and return time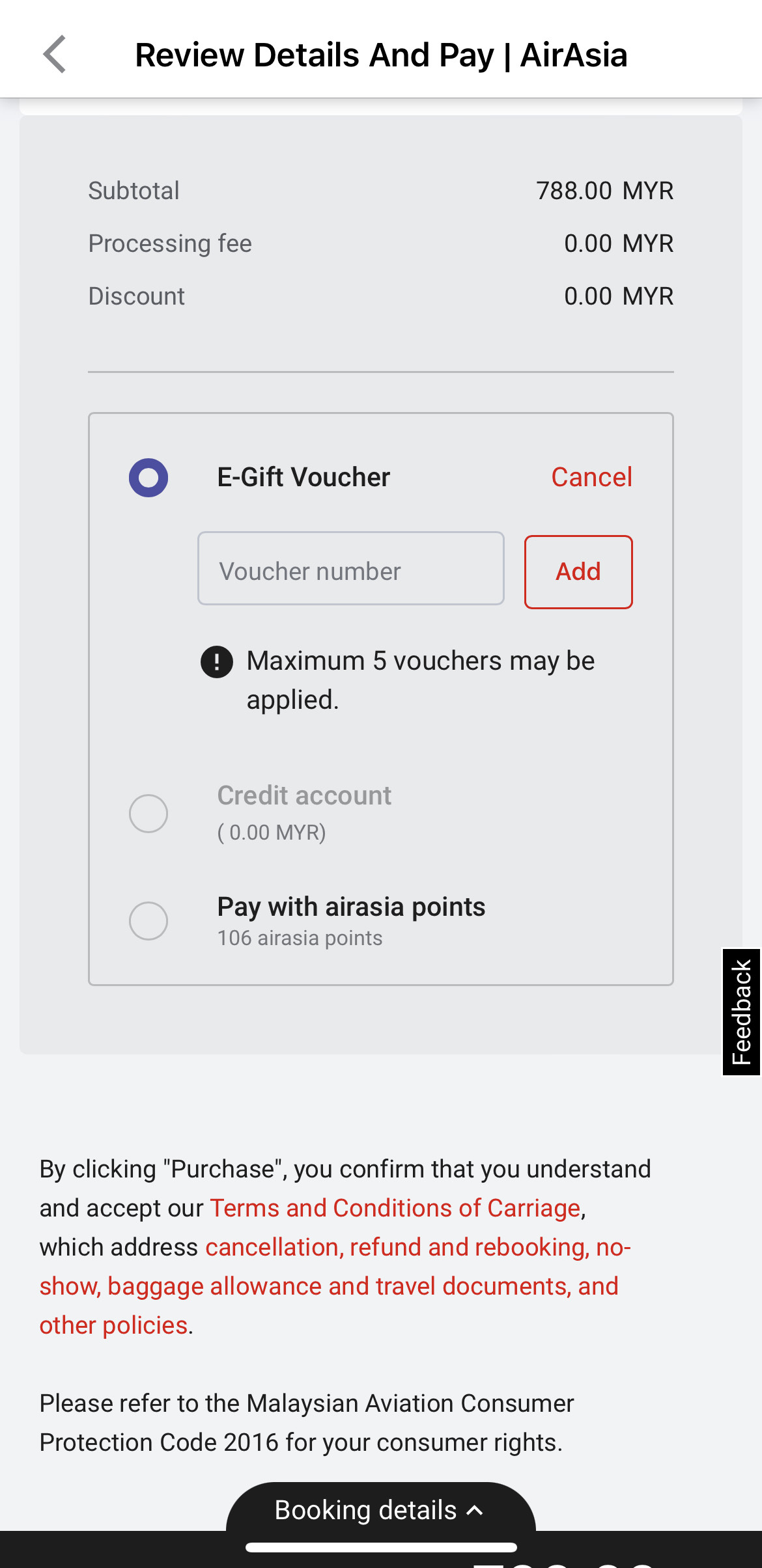 4
Upon payment page, insert your voucher number before you make the payment
Terms & Conditions
Cuti-Cuti Malaysia RM 50 Stimulus Code Campaign

Introduction

This Cuti-Cuti Malaysia RM 50 Stimulus Code Campaign ("Campaign") is organised by AirAsia Com Travel Sdn Bhd ("Organiser, "we", "our", "us") in partnership with the Ministry of Tourism, Arts and Culture of Malaysia ("MOTAC") which is available for booking within the airasia.com application and website ("Website") that is operated and maintained by us.
This Campaign is governed by the terms and conditions set out hereunder ("Terms and Conditions") and by participating or upon entry of this Campaign, all participants ("Participants", "you") agree to be bound by these Terms and Conditions, Terms of Carriage and shall be deemed to have given their consent for the collection of personal information and the use of such personal information shall be in accordance with the Privacy Policy of the Organiser with no monetary payment.
Information on how to participate in this Campaign forms part of these conditions of entry. Registration for and/or participation in this Campaign is deemed as acceptance of these conditions of entry. Acceptance of these Terms and Conditions is a condition of entry.
You acknowledge and agree that we are only a distributor of the promotional code and flights. The flights and/or purchase of ancillary products including but not limited to checked baggage, in-flight meals and hotel related add-ons shall be fulfilled by the relevant airline.

Phase 4 Validity - Update your NRIC

Campaign Period: Time 09:00 of 08/09/2022 to time of 12:00 of 31/12/2022.
Update your NRIC is only available through the airasia.com website.
The Organiser reserves the right to amend or extend the duration of the Campaign at any time as it deems fit without prior notice and/or liability to Participants.

Phase 4 Validity - Use your e-voucher code

Traveling Period: Time 12:00 of 08/08/2022 to time 23:59 of 31/12/2022.
Promotional code Validity Period & Redemption Period: Seven (7) days from the day Participants receive the e-voucher code
The Campaign Period, Traveling Period and e-voucher code Redemption Period are based on Malaysia timezone (GMT+8).

Phase 4 Specific Terms and Conditions

You may update your NRIC on the 'Single-Sign On Profile Page' on the airasia.com website.
You will receive an e-voucher code that will be sent to your AirAsia member email address within 24 hours from the time your NRIC is updated.
You may then proceed to use the e-voucher code to offset your flight purchase on the payment page on the Website.
To qualify and participate in this Campaign, Participants must insert the e-voucher code to offset your flight purchase on the payment page on the Website during the Campaign Period ("Campaign Requirements").
This Campaign is only applicable to Malaysians whose age is 18 years old or above, with NRIC number.
This Campaign is available on a first-come, first-serve basis and is subject to availability. Once the number of e-voucher code redemption has reached the total limit, we will no longer make the e-voucher code available for redemption.
You can only use the e-voucher code to offset your flight purchase on the Website for Malaysia Domestic Flights ("AK Flights") only.
If you spend below the amount of the e-voucher code on any AK Flights on the Website, you will not be entitled to request for a refund for the balance.
The e-voucher code domestic flight ticket is redeemable at an amount of RM50 for a one way or a return domestic flight booking.
Each e-voucher code is applicable for one-time use to one booking only by each Participant. For the avoidance of doubt, one booking shall only consist of one guest.
Each Participant is entitled for one time e-voucher code usage only. In the event, you have redeemed the promotional code during the previous Phases, you shall not be entitled to further redeem the promotional code for Phase 4.

Cancellation and Refund

Unless specifically mentioned at the time of booking and contained in the confirmation of booking, every redemption of promotional code once confirmed, is not refundable, transferable or exchangeable.
In the event, through no fault of you, your flight booking is canceled, you agree and accept that the only liability of us to you shall be a refund of the amount you paid for the flight booking, together with the value of the promotional code redeemed by you.
Such qualifying refund will be released to you in the form of a credit account.
Save for the foregoing refund policy, you agree, accept and acknowledge that we will not be liable for any further damages, claims or compensation in the event of flight cancellation or flight change by the airline or by you.
You may refer to the Terms of Carriage on how to initiate your refund process or by visiting ​support.airasia.com and select "Chat with AVA".

Miscellaneous

If for any reason this Campaign is unable to proceed or operate smoothly due to actions of the Participants, including but not limited to irregularity, tampering, unauthorised intervention, fraud or any other causes beyond our control which corrupts or affects the administration, security, fairness, integrity or proper conduct of this Campaign, the Organiser reserves the right in its sole discretion to cancel, terminate, modify, postpone or suspend the Campaign.
The Organiser also reserves the right at our sole discretion to disqualify any Participant and retract the E-Voucher from any Participants if the Organiser has proof or reasonably believe that the Participant has (singularly or jointly with any other Participant) undertaken fraudulent practice and/or activities to obtain the promotional code or undertaken any other activities harmful to this Campaign or to us. The Organiser further reserves the right to block your airasia account from performing future transactions on the Organiser's website.
The Organiser reserves the right to process you further in accordance with the applicable local laws should the Organiser have proof or reasonably believe that you have violated these Specific Terms and Conditions in connection with this Campaign (in which case you undertake to bear maximum liability allowed by law).
The Organiser accepts no responsibility for late, lost, incomplete, incorrectly submitted, delayed, corrupted or misdirected transaction(s) whether due to error, omission, alteration, tampering, deletion, theft, destruction or otherwise.
The Organiser, their subsidiaries, affiliates, and associated companies shall bear no responsibility for any damage, loss (including but not limited to direct, indirect, special and consequential loss or loss of profits), expense, liability, disappointment, personal injury, or death which is incurred, suffered or sustained (whether or not arising from any person's negligence) by the Participants in connection with this Campaign, the promotion of this Campaign or the use of the promotional code , except for any liability which cannot be excluded by law (in which case that liability is limited to the minimum allowable by law).
The Terms and Conditions contained herein shall prevail over any inconsistent terms, conditions, provisions or representations contained in any other promotional or advertising materials for the Campaign.
The Organiser reserves the right at their sole discretion to vary, delete or add to any of the terms and conditions contained herein, without any prior notice to the Participants. Such revised terms and conditions will be posted on the Website immediately. The decision of the Organiser in relation to every aspect of the Campaign shall be deemed final and conclusive under any circumstances and no correspondence, appeal nor complaint from any Participants will be entertained.
The Organiser shall not be liable for any failure to comply or for any delay in performing its obligations where the failure is caused by something outside its reasonable control. Such circumstances shall include, but not limited to, weather conditions, fire, flood, hurricane, strike, industrial dispute, war, hostilities, political unrest, riots, civil commotion, epidemic and pandemic as pronounced by the World Health Organisation, inevitable accidents, supervening legislation or any other circumstances of whatsoever nature beyond the control of the Organiser.
All expenses associated with this Campaign such as transportation, accommodation or any other costs of a personal nature that are not stated (if applicable) shall be solely borne by the Participants.
All taxes, rates, government fees or any other charges that may be levied against the Participants under applicable laws, if any, in relation to this Campaign, shall be solely borne by the Participants.
The Terms and Conditions may be translated to other languages. In the event of any inconsistency between the English and translated versions, the English language shall prevail.
These Terms and Conditions are governed by the laws of Malaysia and subjected to the jurisdiction of a forum in Malaysia.