Xcite Inflight Entertaiment
COVID-19 Update: This service is temporarily suspended.
You Will Be Entertained
Enjoy access to hours of movies, TV series, music, games, and magazines—all on the Xcite Tab. Pre-loaded with high definition content and approximately six (6) hours of battery life, Xcite Tab offers a seamless viewing experience from the comfort of your seat.
Available on AirAsia X (D7) flights only (except on flights to/from Bali, Saudi Arabia, Singapore and between Taipei and Osaka/Okinawa). Units are limited, so be sure to pre-book yours before you fly!
*Prices are subject to daily currency exchange rates.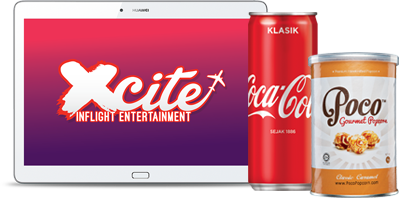 Snack combo is available for new bookings made from 20 May 2019 onwards.
Content highlights
Movies
Watch the latest Hollywood blockbusters and all-time favourites
TV shows
Catch episodes from popular TV series
Music
Listen to chart-topping hits
Games
Challenge yourself with strategy games and puzzles
Magazines
Browse from a selection of international and local titles
The Xcite Tab comes with
10.1" Full HD widescreen display
Harman Kardon audio technology for a richer acoustic experience
Headset