Hot Meals
Don't want to fly hungry?
Named after the much-loved coconut milk, our Santan menu offers a wide selection of Asean, international and vegetarian options for everyone. Our Santan Combo Meal provides guests with great value and savings, plus the ability to choose and secure your favourite Hot Meal from a wide selection.
All pre-book meals come with a complimentary drink as well.
Pre-book your meals through our website at least 24 hours before the scheduled flight departure. Don't miss this delicious culinary experience in the sky!
Need to munch on something when you fly? You can browse our selection of snacks and drinks during your flight when you login to our free AirAsia Wifi Portal. (AirAsia Wifi is only available on selected flights)
Please choose your flight to view the inflight meals available for booking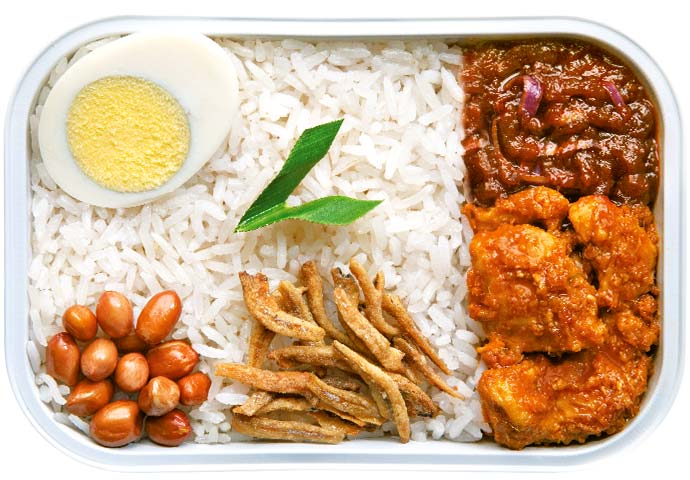 Pak Nasser's Nasi Lemak
A coconut rice dish served with Pak Nasser's chilli sambal and chicken rendang, complemented with fried anchovies, crunchy groundnuts and half of a hard-boiled egg.
---
Allergens info: Eggs, Gluten, Nuts, Seafood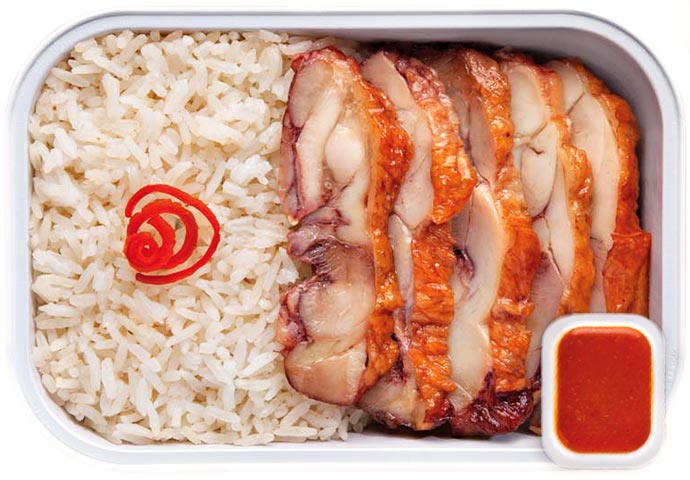 Uncle Chin's Chicken Rice
A Chinese Malaysian favourite of fluffy seasoned rice served with roast chicken and accompanied with Uncle Chin's special secret chilli, ginger and garlic sauce.
---
Allergens info: Gluten, Soy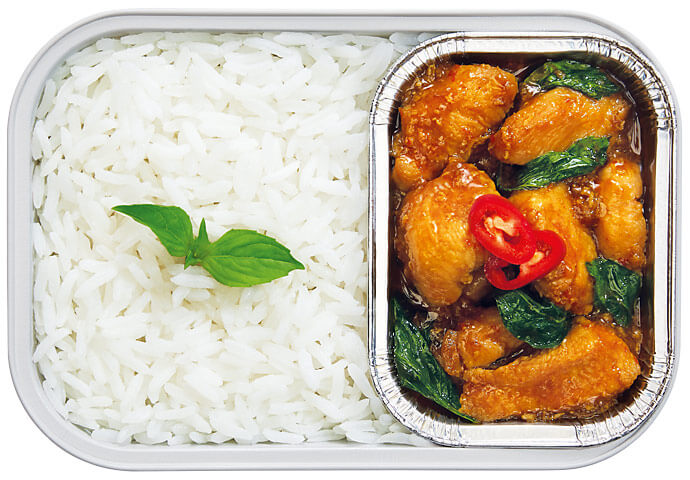 Thai Basil Chicken With Rice
This popular Thai dish consists of chicken chunks, stir-fried with aromatic basil leaves to give it that robust, signature flavour, and is completed with a side of fluffy white rice.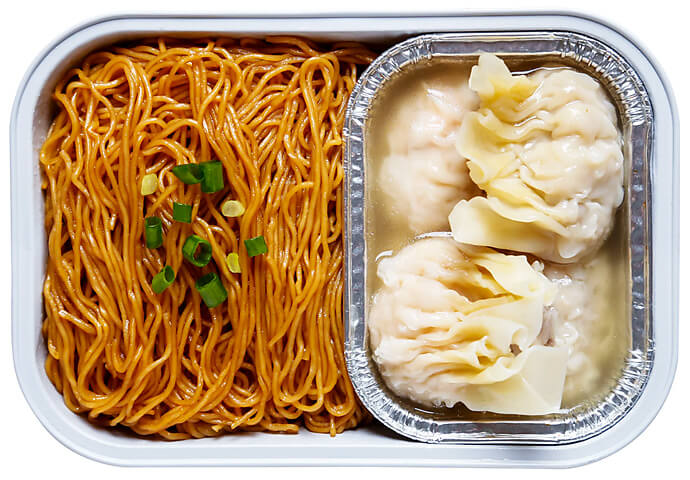 Prawn and Chicken Wanton Noodles
The heart-warming combination of fragrant springy egg noodles lightly coated with premium soy sauce and oyster sauce, paired with delicately wrapped wonton (little dumplings) filled with quality prawn and chicken.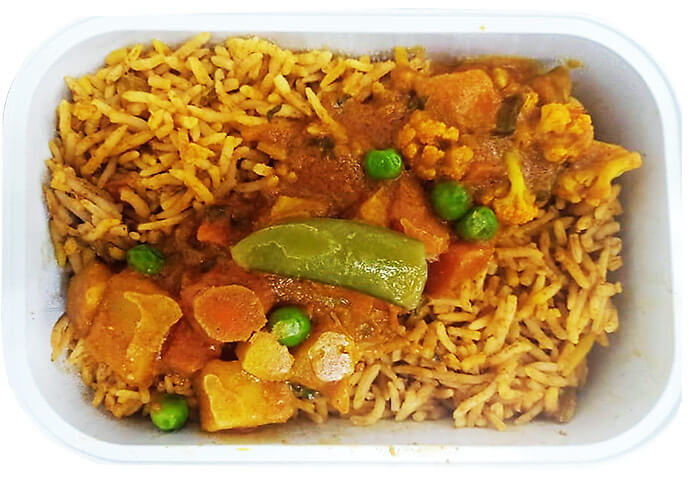 Hyderabadi Biryani with Kofta in Tomato Curry
The ultimate comfort food that consists of handmade springy egg noodles tossed in a savoury soy-sesame sauce and served with a side of succulent prawn and chicken wontons in a delicious homemade broth.
Bukhara Chicken Biryani
Chicken tenders cooked in Bukhara hot and spicy sauce, served with aromatic basmati rice and an authentic blend of selected spices for that tantalizing taste.
Honey Sesame Roasted Chicken Wrap
Perfectly roasted chicken chunks coated in our irresistible house-blend sesame honey sauce, paired with lettuce, cucumber and red onion.
---
Allergen info: contains gluten, soy, sesame, egg, sulphite, mustard and dairy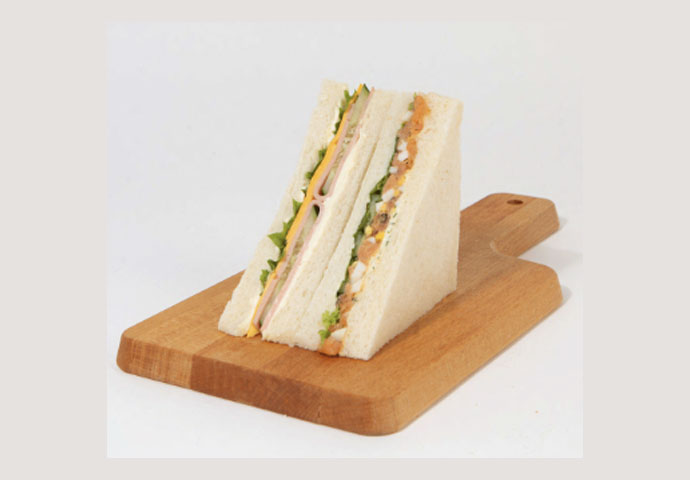 Chicken & Cheese Sandwich
If you're adventurous with your travels but not so much with your food, then the Chicken & Cheese Sandwich will be right up your alley. Between slices of soft milk loafs, bite into layers of chicken, cheese, Lollo Rosso seasoned with cream cheese mayonnaise and honey mustard sauce.
Pre-book meal terms & conditions
Meal selections are subject to variation from time to time. Food may contain nuts, gluten, seafood, eggs or dairy.
The provision of In Flight products or services, advertised program or meals is subject to availability.
To comply with the maximum safety standards for food operations onboard, we'll continue to serve food and beverages, but with limited menu options. Only packaged snacks such as chips, nuts, chocolate, canned drinks and bottled water are available for purchase onboard.
Hot meals are available only if you've pre-booked them. You can do so at My Bookings at least 24 hours before departure time. We won't serve meals onboard Thai AirAsia (FD), AirAsia India (I5) flights and AirAsia Japan (DJ) flights.
Changes to pre-booked meals may only be done more than 24 hours prior to flight departure time. Guests must pay the price difference if the price of the new meal booked is higher than original meal paid.
The boarding pass is proof of purchase of a pre-booked meal and must be presented to the cabin crew onboard to redeem the pre-booked meal. No other form of redemption will be entertained.
AirAsia reserves the right to substitute any component of a pre-booked meal or change the recipe or specifications of a pre-booked meal.
In the event that AirAsia cannot serve certain pre-booked meals due to supply issues during this movement control period, AirAsia will substitute the affected meals with a new meal. Passengers will need to reselect their new meal via their original booking channel at least 24 hours before departure time, otherwise, a default meal will be selected.