Hot Meals
Don't want to fly hungry?
Named after the much-loved coconut milk, our Santan menu offers a wide selection of Asean, international and vegetarian options for everyone. Our Santan Combo Meal provides guests with great value and savings, plus the ability to choose and secure your favourite Hot Meal from a wide selection.
All pre-book meals come with a complimentary drink as well.
Pre-book your meals through our website at least 24 hours before the scheduled flight departure. Don't miss this delicious culinary experience in the sky!
Please choose your flight to view the inflight meals available for booking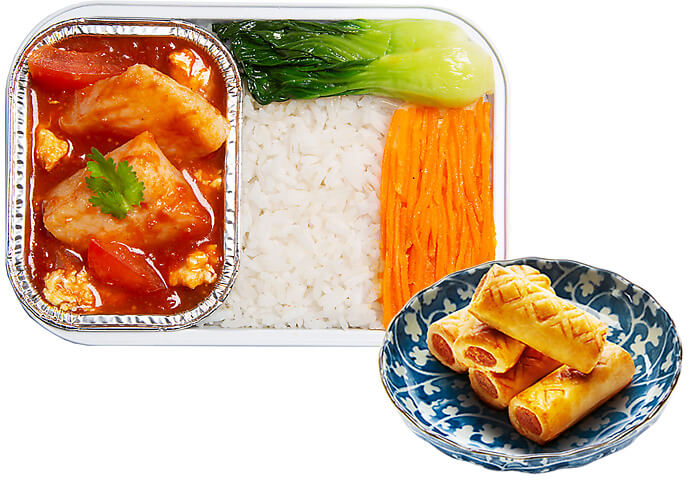 Prosperity Tomato Egg and Fish Stew with Rice + Pineapple Tart
Scrumptious home-style Chinese food at its best! Creamy, well-seasoned eggs in a silky, sweet tomato sauce paired perfectly with baked fish fillets and served with steamed rice to create the perfect flavour-packed dish.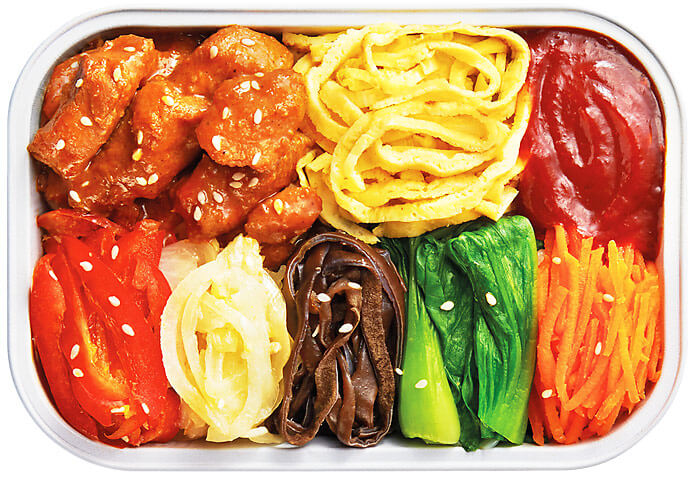 Chef Hong's Korean Bibimbap with Chicken Bulgogi
Chef Hong Seok-Cheon steals the limelight again with this classic Bibimbap dish—steamed rice and aromatic assorted vegetables sauteed in sesame oil, topped with sliced omelette and a sweet, smoky Chicken Bulgogi in spicy, tangy Gochujang sauce.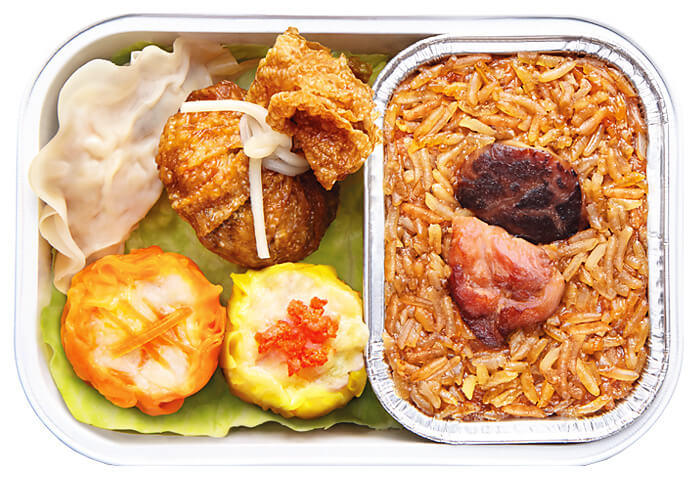 Selected flights
Glutinous Rice with Chicken and Dim Sum Combo
The perfect combination of chicken and prawn dumplings with bean curd pockets, made even tastier when paired with chicken glutinous rice. This is an absolute must try!
---
Allergen Info: Gluten, Seafood, Sesame, Soy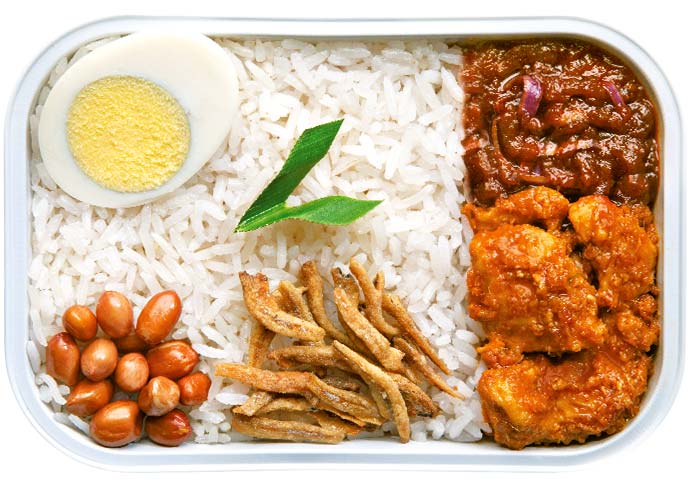 Pak Nasser's Nasi Lemak
A coconut rice dish served with Pak Nasser's chilli sambal and chicken rendang, complemented with fried anchovies, crunchy groundnuts and half of a hard-boiled egg.
---
Allergens info: Eggs, Gluten, Nuts, Seafood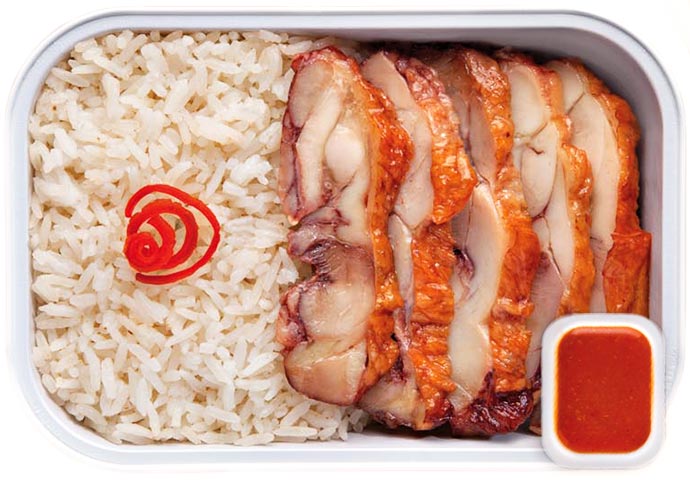 Uncle Chin's Chicken Rice
A Chinese Malaysian favourite of fluffy seasoned rice served with roast chicken and accompanied with Uncle Chin's special secret chilli, ginger and garlic sauce.
---
Allergens info: Gluten, Soy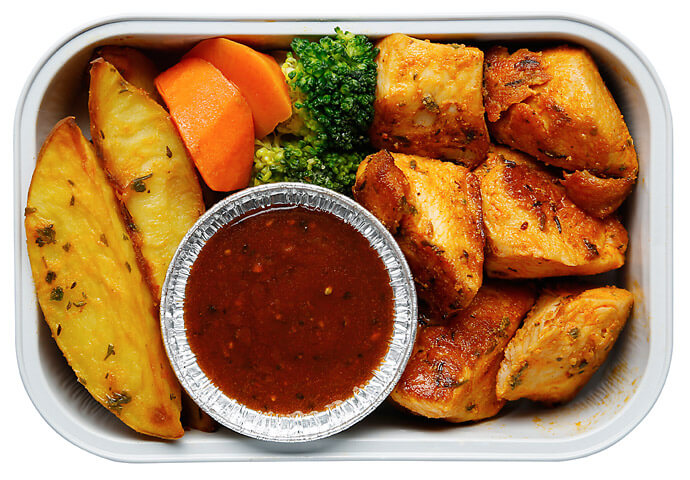 Roasted Chicken with Black Pepper Sauce
Delicious and savoury, this roast marinated chicken is accompanied by an aromatic black pepper sauce and served with herb roasted potato wedges and blanched vegetables.
---
Allergens info: Gluten, Dairy, Nuts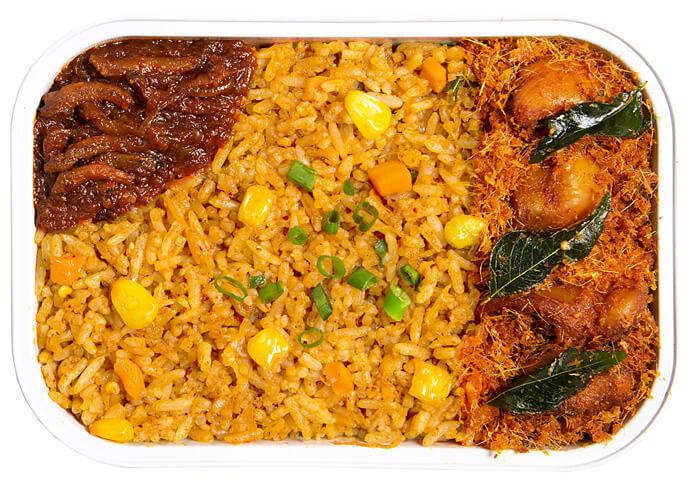 Nasi Lemak Goreng
Give your taste buds a treat with this fragrant coconut rice stir-fried with egg, veggies and an assortment of spices. Served with juicy herb-marinated chicken and a side of sambal with anchovies.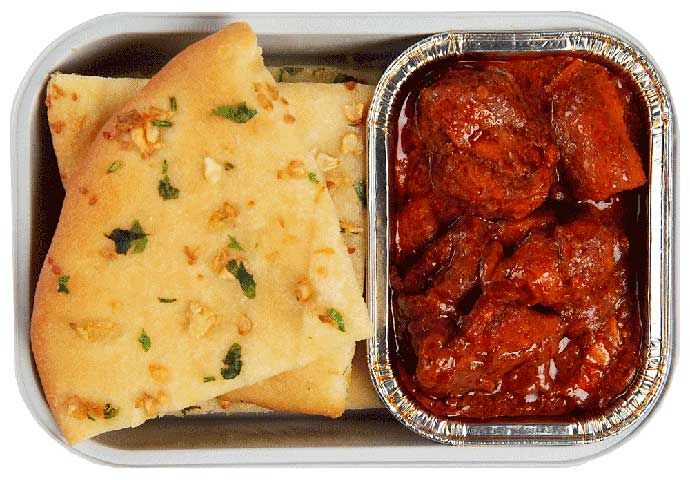 Selected flights
Chicken Tikka Masala with Garlic Naan
Chicken chunks baked to perfection in spices and yogurt, served with warm garlic naan and creamy rich masala sauce.
---
Allergen info: Gluten, Dairy, Mustard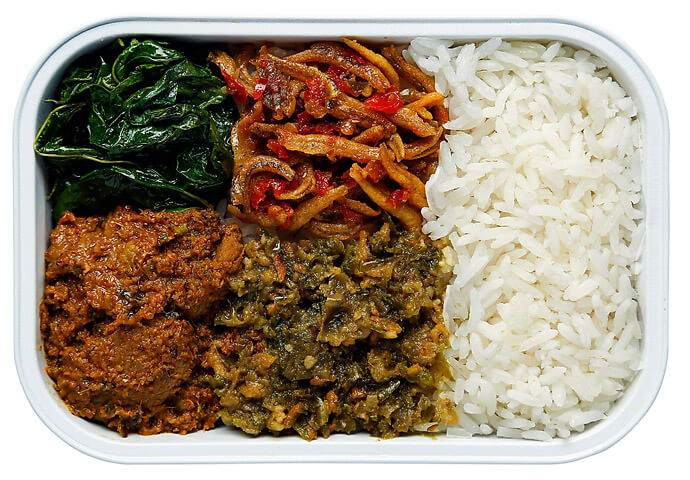 Nasi Padang with Prawn Crackers
This popular Indonesian meal from the city of Padang consists of white rice, beef rendang, stir-fried cassava leaves, ikan bilis balado and green sambal. Served with crisp prawn crackers.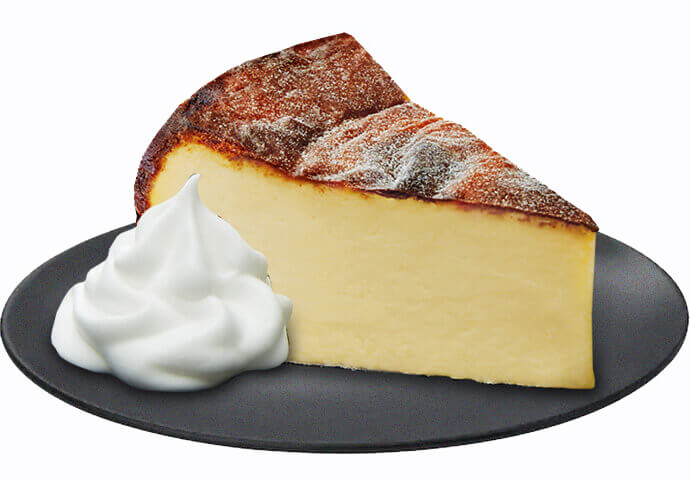 Burnt Cheesecake (Max Your Meal)
Smooth, creamy, mildly sweet with hints of lemon, this addictive desserts is completed with a scoop of airy whipped cream.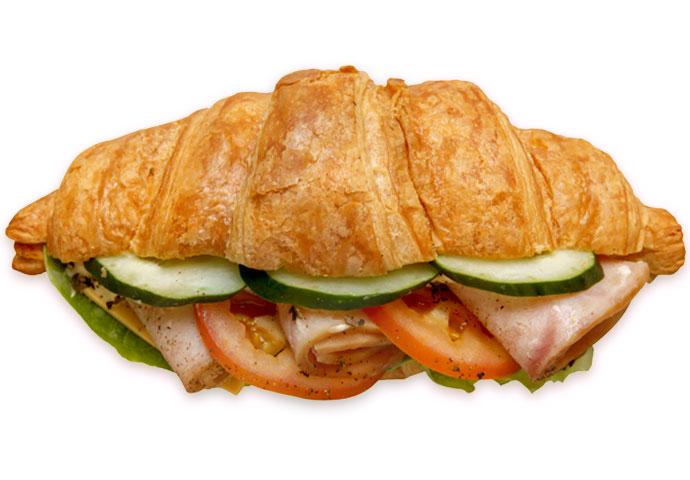 Gourmet Croissant Sandwich
Filled with juicy smoked chicken slices, cheddar, tomatoes and lettuce drizzled with sweet honey mustard sauce, this soft and flaky croissant sandwich is both scrumptious and wholesome!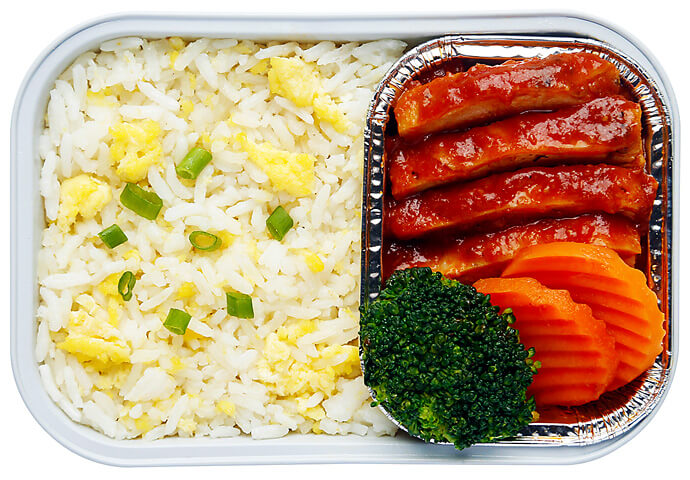 Napoletana Chicken with Egg Fried Rice
Fragrant golden brown egg fried rice served with succulent chicken cutlets in a sweet and savoury Napoletana sauce.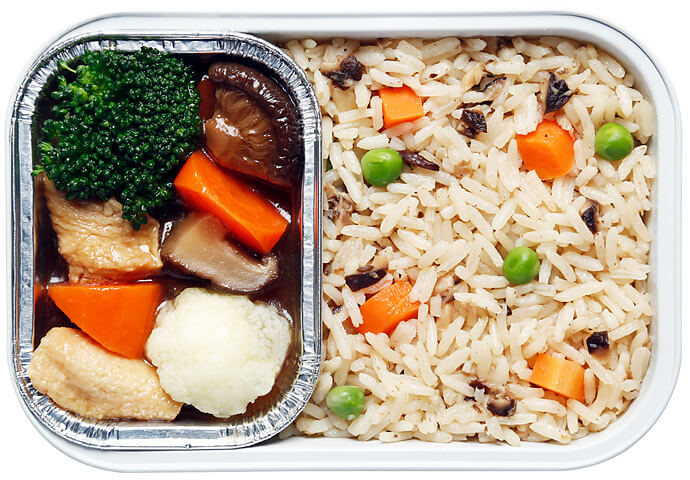 Braised Vegetables and Mushroom Rice Bowl
Crunchy cauliflower, broccoli and carrots braised in a delicious umami sauce that will make your mouth water. It's paired with flavourful mushroom rice cooked in a mushroom and vegetable broth.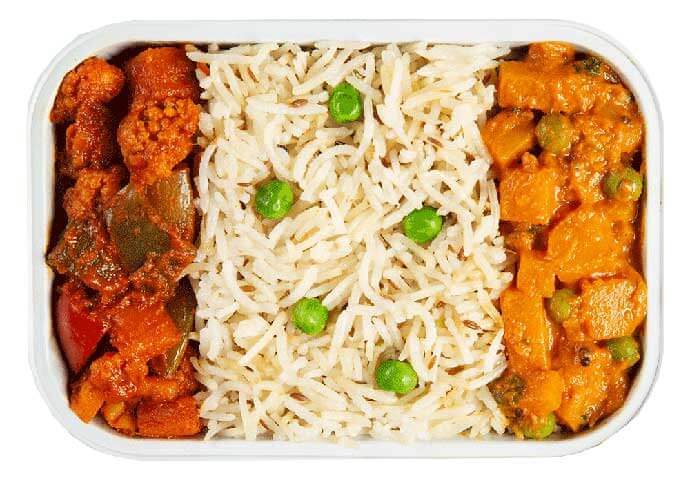 Selected flights
Pumpkin Kootu and Vegetable Jalfrezi with Jeera Rice
Mildly sweet and creamy pumpkin curry paired with tangy vegetable jalfrezi and savoury spiced jeera rice. Free of any dairy ingredients, egg, garlic or onion.
---
Allergen info: Gluten, Mustard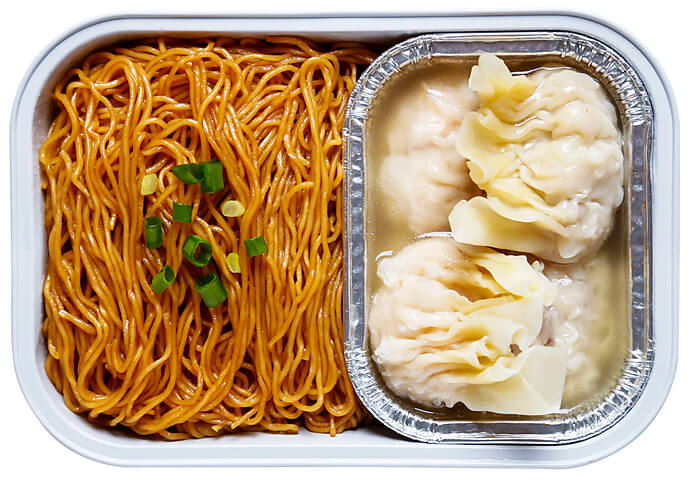 Prawn & Chicken Wonton Noodles
The ultimate comfort food that consists of handmade springy egg noodles tossed in a savoury soy-sesame sauce and served with a side of succulent prawn and chicken wontons in a delicious homemade broth.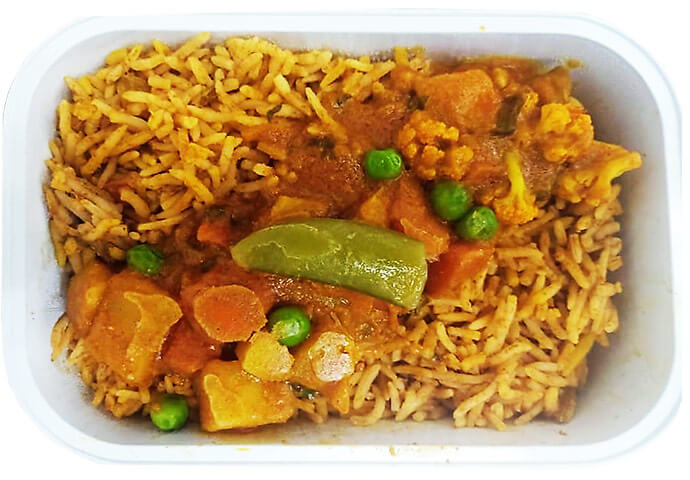 Hyderabadi Biryani with Kofta in Tomato Curry
The ultimate comfort food that consists of handmade springy egg noodles tossed in a savoury soy-sesame sauce and served with a side of succulent prawn and chicken wontons in a delicious homemade broth.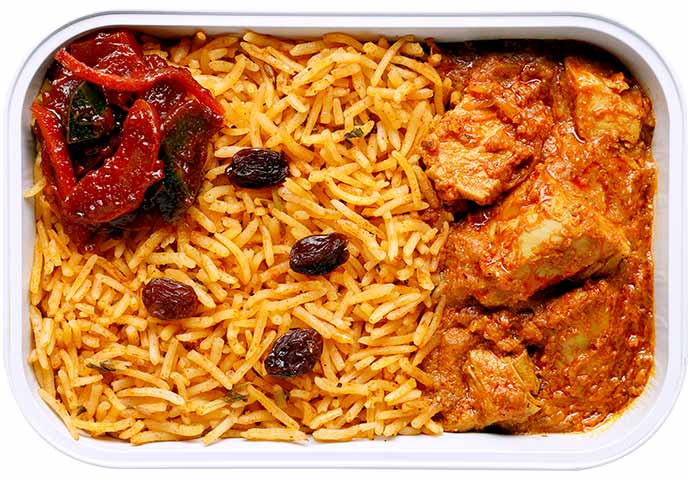 Bukhara Chicken Biryani
Chicken tenders cooked in Bukhara hot and spicy sauce, served with aromatic basmati rice and an authentic blend of selected spices for that tantalizing taste.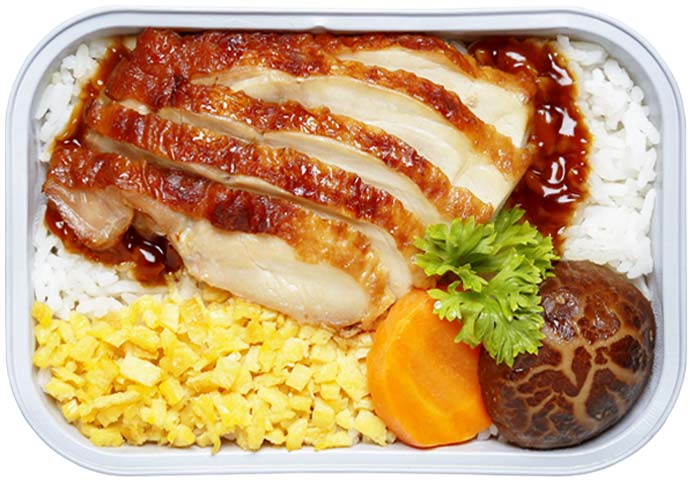 Chicken Teriyaki with Rice
A Japanese classic, this dish features succulent and sweet teriyaki chicken accompanied by fluffy diced omelette, shiitake mushroom and carrot, served on a bed of fluffy white rice.
---
Allergens info: Gluten, Eggs, Seafood, Soy
Kung Pao Chicken with Rice
This Szechuan-inspired dish features chicken, dried chili, spicy Kung Po sauce, capsicums, red onion and peanuts. Served with fragrant white rice, this meal promises a riot of flavours.
---
Allergens info: Gluten, Seafood, Soy, Tree Nuts, Sesame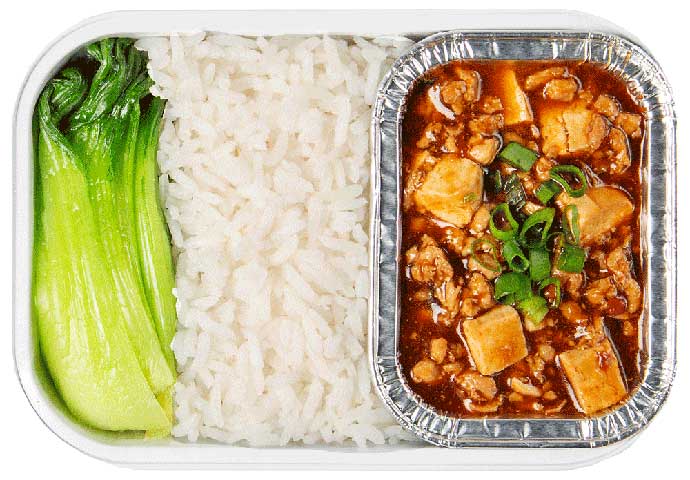 Selected flights
Chicken Mapo Tofu with Rice
Braised tofu and minced chicken in a spicy and savoury sauce with Sichuan peppercorns and other Chinese spices. Served with jasmine rice and seasoned bok choy.
---
Allergen: Gluten, Soy, Seafood, Nuts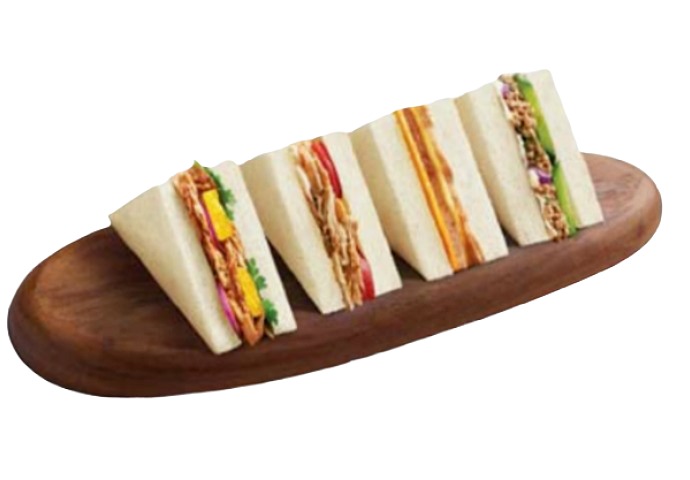 Japanese Cotton Bread Sandwiches
A sandwich set that pairs the softest, fluffiest Japanese cotton bread with two tasty new fillings: Hawaiian BBQ chicken with juicy pineapple chunks, and savoury-sweet tuna mayo with fresh dill. A truly melt-in-your-mouth experience!
Pre-book meal terms & conditions
Meal selections are subject to variation from time to time. Food may contain nuts, gluten, seafood, eggs or dairy.
The provision of In Flight products or services, advertised program or meals is subject to availability.
Pre-book meals are not available if bookings are made 24 hours before departure time.
Changes to pre-booked meals may only be done more than 24 hours prior to flight departure time. Guests must pay the price difference if the price of the new meal booked is higher than original meal paid.
The boarding pass is proof of purchase of a pre-booked meal and must be presented to the cabin crew onboard to redeem the pre-booked meal. No other form of redemption will be entertained.
AirAsia reserves the right to substitute any component of a pre-booked meal or change the recipe or specifications of a pre-booked meal. AirAsia will endeavour to provide the value of any pre-booked meal that has been changed to be similar to that of the original purchased.
---
Click to browse through our full in-flight menu