AIRI GWYNEVERE
Airi Gwynevere is ancient witch, the most brilliant of her time. Trapped in a cellar for longer than she can remember, Gwyn was freed by Mikazuki Mai and became enamored by the New World and technology.
Adept in arcane arts, such as reading cards and watching the moon, Gwyn found out that the old ways are no longer practiced and her craft is now taboo. She recently established a bar to earn a living in this modern age.
Gwyn is fluent in English and Chinese, and has a grasp of Korean and Japanese.
---
MIKAZUKI MAI
A witch hunter by training, Mikazuki Mai struggles to live up to the expectations of those around her. So incompetent is she at her job that she accidentally did the opposite of what she is supposed to do, letting Airi Gwynevere loose into the world.
Young and penniless, Mai has little choice but to work with Gwyn at the bar to earn her keep. An isopod named Zuozuo accompanies Mai on her adventures.
Mai speaks English, Malay, Indonesian, and some Korean and Japanese.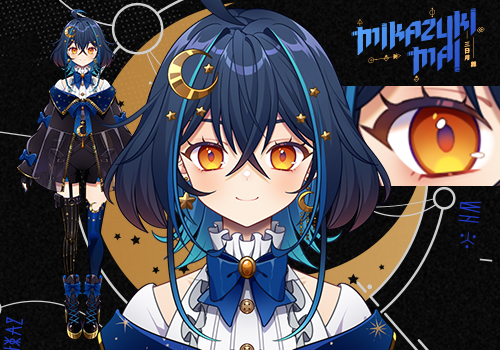 ---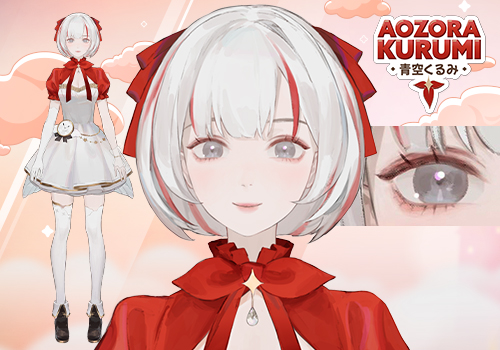 AOZORA KURUMI - GRADUATED
As part of her apprenticeship under the Greek god Hermes, Aozora Kurumi was required to travel between universes. One day, she flew to Earth and became fascinated with this world. Then she met Project Kavvaii producers and became a part-time idol streamer.
In her free time, Kurumi enjoys people-watching from her 'Cloud Palace' (her home above the clouds) and has a pet cat called Jetson whom she calls her "son".
Kurumi is fluent in English, Mandarin, Hokkien, Cantonese, Korean with some Malay and Japanese.
Fan-made Content Guidelines
The "Guidelines" menu name changes to "For Fans", but content is still the Fan-made Content Guidelines. There are minor changes to the copy. Please use the body text below.
We are happy to see your fan art and other fan-made content, and appreciate the time and effort you spend on them. We drafted the general guidelines below so that you can enjoy fan-made content and share them freely without the need to obtain Project Kavvaii's permission.
By definition, fan-made content is original work inspired by our VTubers or a remix of their work, adding in your input (e.g. clips, memes and reviews). This is considered fair use, not copyright infringement. When creating fan-made content, please bear in mind that the following are not acceptable:
Work that may offend or damage the reputation of the VTuber, Project Kavvaii team, airasia or other parties
Work that is used in service of divisive causes such as politics or belief systems
Work that is based on members-only content
Work that goes against the terms of service of the platforms they are posted on
In addition, the following are not considered fan-made content and may be liable for copyright violations and legal action:
Work that falsely claims to be or may be mistaken to be official content from our VTubers or Project Kavvaii
Work that is intended for commercial (for-profit) purpose
We hope that you will continue to create fan-made content. Thank you for sharing your art and for tagging our VTubers on their channels!
These guidelines may be updated from time to time. Last updated on 28 April 2022..
About Project Kavvaii
airasia created Project Kavvaii as a platform to showcase talents and empower the growing VTuber community across Southeast Asia. We launched with an audition announcement on the 8th of March, 2021.
Since our inaugural virtual idol Aozora Kurumi's highly anticipated debut on the 8th of May 2021, we have partnered with various companies, among them Sony, CAPCOM and Sega. An Aozora Kurumi art competition was also held on Pixiv, one of the top platforms for illustrators.
Our Lunetide Generation vtubers Airi Gwynevere and Mikazuki Mai debuted within a day of each other in April 2022 and continue to entertain and engage viewers with art, gaming, karaoke and chatting streams on their YouTube channels.
We aim to provide potential virtual streamers with the equipment, creative assets, marketing support and other resources so that streamers can offer quality content on their channels.
Auditions are currently closed. Receive updates and get in touch with us through Twitter @projectkavvaii.