Craving for something yummy or want to purchase duty-free items or get great deals for someone special? Download our e-Catalogue now to browse our selection of Santan meals, AirAsia merchandise and duty-free items before you fly.
As a safety precaution, our Santan Inflight Menu, Duty-Free & Merchandise catalogue will only be available in digital form. Download our e-Catalogue before your flight to browse before making purchases on board.
Please choose your flight to view the inflight meals, merchandise and duty free available for booking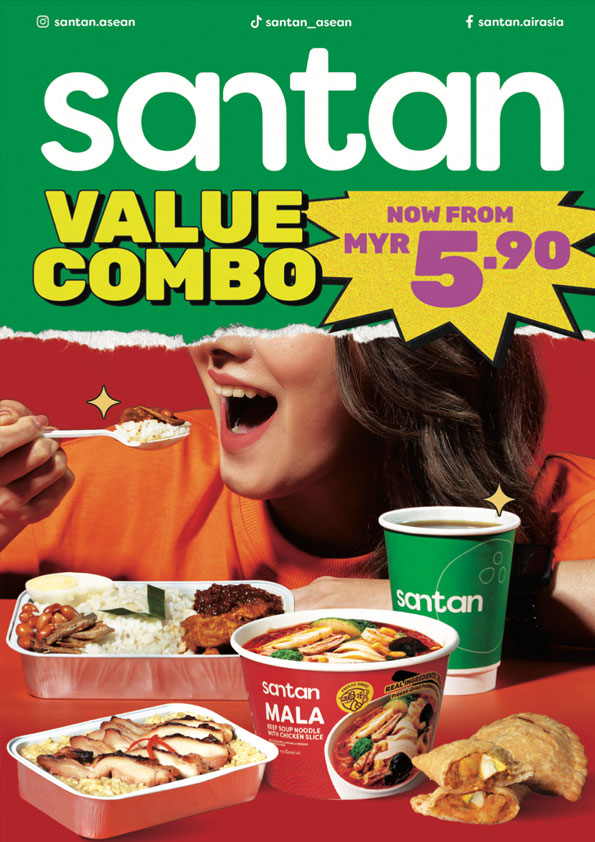 Santan Inflight Menu
Our Santan menu offers a wide selection of meals for everyone. Download the e-Catalogue before your flight to browse for available meals on board, or pre-book from a selection of Hot Meals online!
airasia travelmall
Pre-download our e-Catalogue to purchase your favourite duty-free products and airasia merchandise on board or pre-book* online before your flight!
* Up to 24 hours before departure for AK flights. Due to system upgrade starting 14 December 2020, please note that the inflight delivery option is unavailable until further notice. You may still purchase your items onboard as per usual.